What is HydraFacial Treatment and Why is it so Popular?
What is HydraFacial Treatment and Why is it so Popular?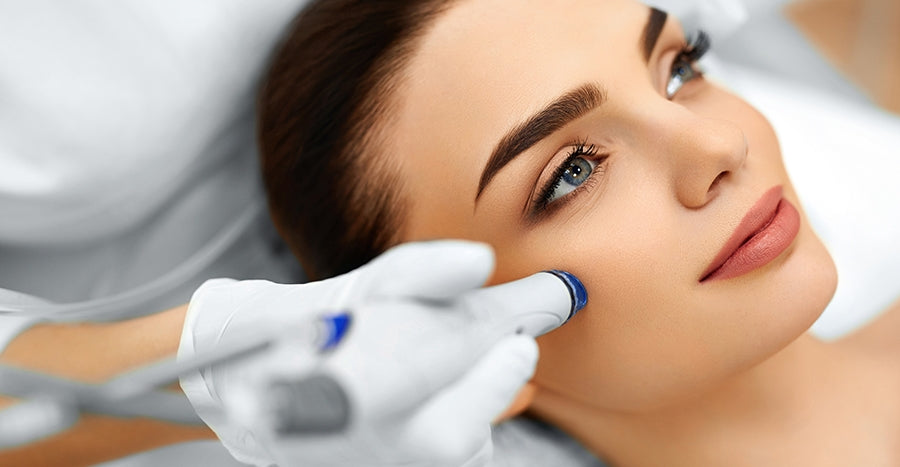 HydraFacial treatment is the most trending facial treatment among the skincare gurus. Celebrities love it for its quick results and no-torture procedure.
No one wants to have blotchy and burning skin after a facial treatment. No one has time for chemical peels, where you have to stay away from people and avoid embarrassment as your dead skin comes off.

To evade hassle and brighten up the skin, people go for a HydraFacial. The traditional facials involve torture when they exfoliate the skin and clean pores by squeezing them using a blackhead remover. 

The HydraFacial is great because it does not involve any of that. It uses modern technology to boost your natural glow by cleaning and moisturizing the pores deeply. The medical-grade hydra dermabrasion device follows a three-step facial treatment to ensure a glowing skin at the end of the session.

The HydraFacial treatment can hydrate and clean up the pores within 30 minutes and has almost no downtime. The treatment has gained popularity mainly because of its effectivity and relaxing procedure.

We have this impatience and we want to do things quickly. The HydraFacial is just right for us because it provides instant gratification with low downtime. 
If you are someone planning on getting a facial to cleanse your acne-prone skin, dry skin, oily skin or open pores, then HydraFacial can solve all the problems.

As someone looking for instant results and no downtime, HydraFacial is a must-try for you. The benefits are completely worth the price and repetitive facials can brighten up the skin, making it look very healthy and clear.
Painless and Soothing
The complete HydraFacial treatment is pain-free and unlike a traditional facial where the skin is exposed to steam and poking, that leaves it irritated and red at the end. You don't have to go through any of that in 
HydraFacial
The treatment is automated and machine done, your facialist holds a wand attached to a hydra dermabrasion device. The wand has a double vortex technology that cleans the pores and infiltrates the pores with a serum at the same time.
Before this step, the skin is prepped by removing dead skin cells and debris off it. The pores are cleaned afterward and the in-depth facial cleaning is what makes the skin look beautiful at the end. 

Effects of a HydraFacial treatment can stay for a week or longer depending on the skincare routine and lifestyle of a person. If you are someone who cleanses and moisturizes the skin often, chances are you will be able to enjoy healthy skin for a few weeks.
Innovative Method for Prepping Skin
The HydraFacial is nothing like a typical facial. In a traditional facial, the treatment begins with steaming to loosen up the mass in pores, but that is not the case with this one.  
In HydraFacial the skin is prepped using a tool that loosens up the pores and removes dead skin cells with glycolic acid, salicylic acid or other extracts.

The prep is relaxing and nothing like steaming that causes irritation and redness. It is not the same, like those hours of discomfort torturing your face with steam that lowers your energy and frustrates you. Only to leave you tired and your skin peeled and uneven at the end. You cannot wear makeup or any other product because it hurts. 

The prep for HydraFacial is soothing and relaxingly takes away the layers of dead skin cells and grease off your skin. It loosens the clogged pores and in the gentlest way, primes your skin for the exfoliation.

For the extraction of mass from pores, a vacuum pore cleaning tool is used. It sucks out the dirt and dead cell debris, hiding in your pores. It is not uncomfortable at all and is nothing like a comedone extractor which protrudes and pokes your skin multiple times. 

Remember that diamond-shaped small spear they used on your skin to pop out each pore's gink. It feels horrible and no one wants to do that, but you told yourself beauty is pain. Well now things have changed and becoming beautiful is not painful with HydraFacial. 
Cleaning Facial Pores and Infusion of Serums
The skin is cleaned using a double-vortex wand that sucks up the gink from your skin and simultaneously adds a layer of nutrients to the skin. The wand adds a thin layer of skin-soothing liquids like hyaluronic acid, Vitamin C and growth factors that rejuvenate skin. 

Hyaluronic acid has multiple benefits like skin hydration, moisturization removing fine lines and wrinkles. It can heal skin cells and promotes the growth of new cells. The fluid is magical and when penetrated the pores after a deep clean, it can show amazing results. 

It does both cleaning and pumping of fluid at the same time to ensure deeper penetration of the fluids in the freshly cleaned pores. It is a no-pain treatment throughout because the wand is extremely gentle on the skin and cleanses the skin in the most subtle way.

The wand of this double-vortex tool is plastic and feels the complete opposite of the pore cleaning with dermabrasion. It does not hurt like scraping and pinching of the manual pore gink removal. It is delicate and the strokes are comforting on the skin, you can almost feel your skin getting light and free of dirt.

If you are someone who has sensitive skin but is looking for a way to clean pores deeply but does not want to have it irritated and inflamed, this is the perfect facial treatment for you.
Quick and Effective
The facial is so quick that it does not take long to prep the skin and just after you are done, you can go back to your routine activities. 

The treatment is very effective when compared to a manual pore cleansing procedure. It can take from 30 minutes to 90 minutes depending on the version of facial treatment.

The treatment that involves extras such as LED light therapy and oxygen treatment can cost higher and take longer. The boosters used in the wand that is squirted into the pores can be customized by considering your skin type and other lifestyle choices.

The chances of your facialist ruining the treatment are almost none because it is an automated process, everything is machine done. So, there isn't much difference in getting it from different salons. The effectivity is high because the amount of junk it extracts from the skin is a lot. 

The facialists may pop out a container after your facial treatment is complete to show you how much stubborn dirt and debris were jammed into your skin pores. It is cringy and satisfying to look at it at the same time.
The treatment is equally effective for all skin types ranging from sensitive to acne-prone and oily skin.

The treatment instantly boosts the skin by hydrating and cleaning the clogged pores. The transformation is surprising because you may go in with a dry and greasy face and open pores, uneven skin tone but come out completely different feeling fresh and gorgeous.

The facial delivers consistent results every time, irrespective of your facialist. It is a facial treatment that you can count on if preparing for a big day.
No-Side Effects and Safe for all skin types
The HydraFacial does not have any side effects and you can wear make-up right after you are done. You don't have to wait and feel irritated afterward. Your skin would feel lighter and restored right after the treatment is complete. 

The skin is left nourished and appealing for a week or longer with just one session at the clinic. Hundreds of clinics, salons, and spas are certified to deliver the best service of HydraFacial around the country. You can google now to find one that operates in your locality.

The side-effects are almost none and no matter what your age, occupation and skin type is, HydraFacial works great for everyone. It is one size fit all, though you can customize the boosters and add oxygen treatment or LED light therapy if you want.

If you're a teenager who has acne, an adult who has wrinkles or an old man with clogged pores, HydraFacial can help you. It restores the natural balance of your skin by exfoliating, hydrating, moisturizing and infusing skin with skin growth serums.

The deep penetrating fluids and rejuvenating serums stay inside your pores and do their magic for longer. So, you can enjoy glowing and healthy skin, weeks after the procedure.

Even if you have to get other procedures done on your skin such as Botox or fillers, the HydraFacial is safe and does not interfere with the chemicals. 
Bottom Line
Though the HydraFacial services are expensive and can be higher depending on your facialist, it is completely worth the price. The quick and painless HydraFacial treatment will make you feel amazing instantly by boosting the skin's natural radiance and exfoliating painlessly. Your skin will feel rejuvenated and glowing in half an hour.

Do not spend money on painful treatments that make you look blotchy and leave your skin hurting afterward. Forget the discomforting chemical peel, painful exfoliating and traditional facial treatments, get a HydraFacial treatment to step up your skincare to the next level.